Working Well with Children and Families in Lancashire
Across Lancashire, we all believe that every child should have the opportunity to reach their full potential and that children are best supported to grow and achieve within their own families. The work of people who are alongside families when they experience challenge should be geared toward building strong foundations and developing assets and resilience so that children thrive. Equally, there will be times when, despite everyone's best efforts to support families, children need our protection to stop them from being harmed. When this is the case, local authority children's services will work with partners to provide this protection.
Working Well with Children and Families in Lancashire sets out the principles by which practitioners in Blackburn with Darwen, Blackpool and Lancashire will work with children and families. Parts 1 and 2 include the levels of need, example indicators of need for each level and set out the expected response to children and families who need additional help. A separate Part 3 is available for each local authority area and includes details of local services and how these can be contacted.
The Working Well with Children and Families guidance was launched via a virtual event on Tuesday 15 July 2021.  You can watch the event back by clicking the link below, and all documentation can be found further down this page.
Levels of Need
The Levels of Need are summarised in the image below.  This is a quick guide and should be read in conjunction with the Working Well with Children and Families guidance below.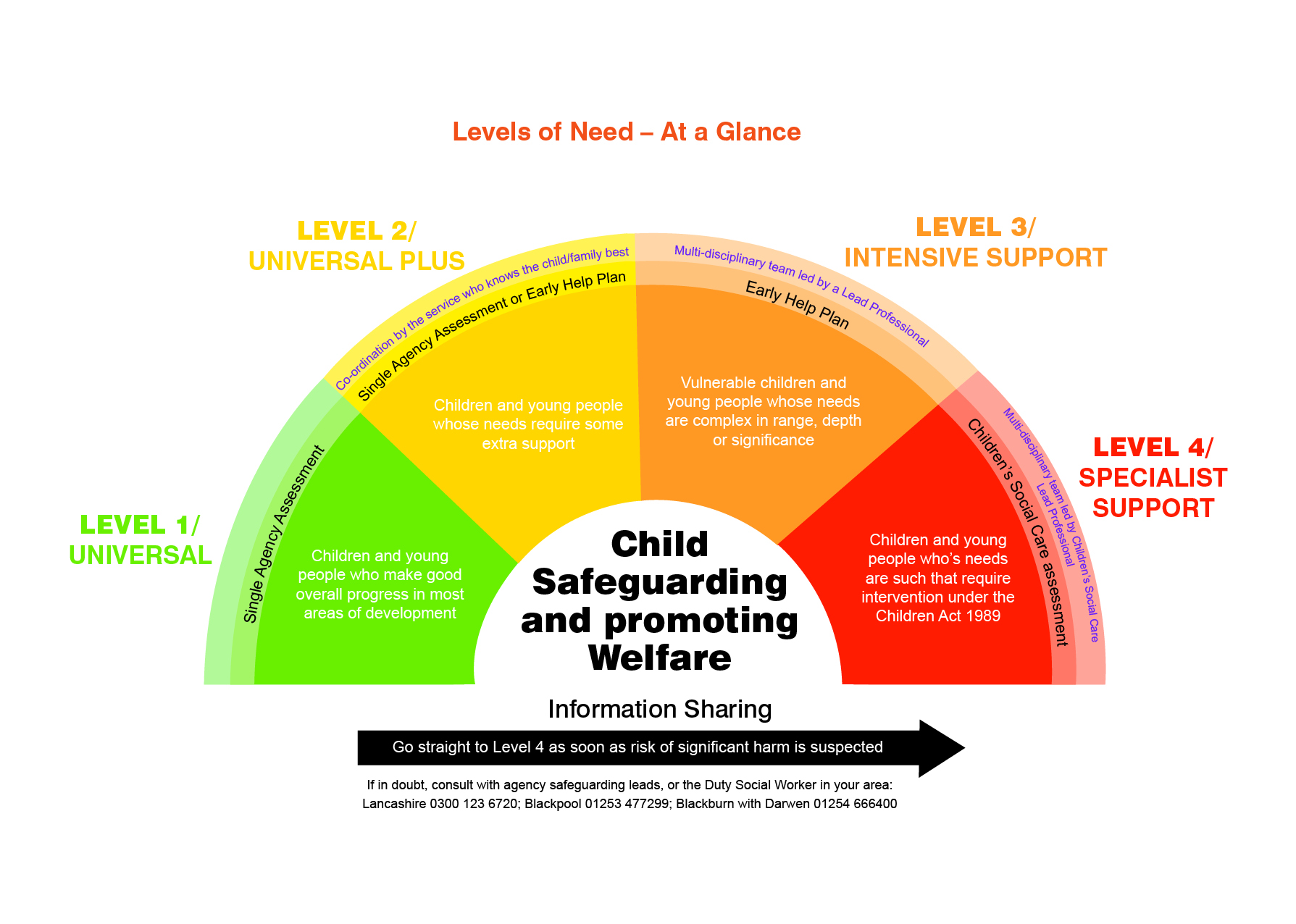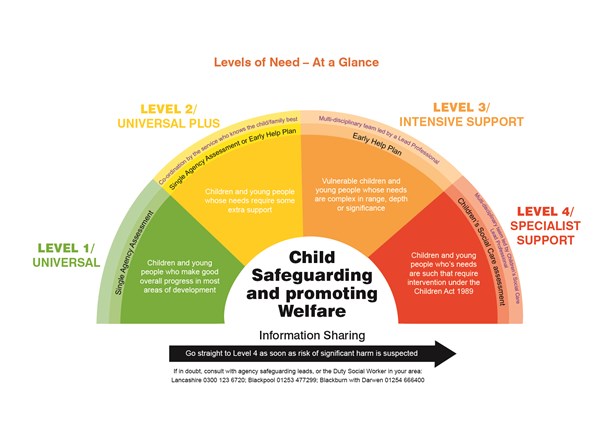 Documents and forms
Working Well with Children and Families in Lancashire - Parts 1 and 2:
Working Well with Children and Families in Lancashire - Part 3 local guidance:
Early Help Assessment and Plan
The Early Help Assessment is an intervention with a family to gather, explore and analyse with them information about all aspects of the child or young person (and their family's) life and then to identify areas where change will address support needs and positively impact on their lived experiences. Working alongside families from a holistic, strength-based approach when areas of support are first identified will stop escalation towards crisis and the need for more intensive and specialist intervention.
Through the Early Help Assessment, Plan, and reviews via Team Around the Family meetings the wider partnership of services can provide families with the right support at the right time. 
Referrals to Children's Social Care
Anyone can raise a concern about the safety and welfare of a child by calling 0300 123 6720 (or between 8.00pm - 8.00am on 0300 123 6722.)
However, where the needs of help and support meet Levels 3 and 4, professionals are able to complete a referral/request for support form via the Multi Agency Safeguarding Hub (MASH)
Before making a referral to MASH you need to consider if the child or young person's needs can be met by services from within your own agency, or by other professionals already involved with the family, including consideration to initiating a CAF.  You should consider the Levels of Need and Working well with Children and Families guidance to inform your decision and also whether a referral to Lancashire Children and Family Wellbeing Service (CFW) will support an existing CAF Plan, particularly where the concerns at level 2 are more complex.  The CFW service offer below provides information about the services available.
The referral form must be completed as comprehensively as possible.  If you are a professional, you should always inform the parent of your concerns and that you will be making a referral and wherever possible seek their consent beforehand, except where a child is considered to be at risk of harm and you believe that seeking parental consent may increase this risk.  If you are unsure about thresholds or seeking consent please seek advice from your line manager.
When there are concerns about a child or young person at Level 4 (child protection), you should make direct contact on 0300 123 6720 or the Police (999 in an emergency) and complete the referral form once the immediate concerns have been addressed.  If the child you are concerned about already has an allocated Social Worker go directly to this person by contacting 0300 123 6720 – there is no need to use this form.
______________________________________________________________
UPDATE: From Monday 8th November 2021, a new referral form has replaced the previous mechanism.  You can find the new form and other useful information from the link below:
https://www.lancashire.gov.uk/practitioners/supporting-children-and-families/safeguarding-children/requesting-support-from-childrens-services/