Online Safeguarding - Parents & Carers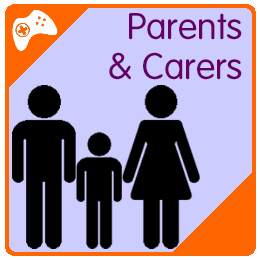 The online world offers amazing opportunities but also brings elements of potential risk and for Parents & Carers, making sense of the online world can appear to be an enormous challenge.  Unlike previous generations, the online environment is an integral part of children's lives and therefore we can no longer consider their wellbeing or safety without also considering their relationship to technology.  However, staying safe online is fundamentally about behaviours rather than the technology itself and if approached from this perspective, we can begin to gain confidence to support our children. 
The illustration below provides some useful tips for Parents and Carers when discussing the online environment with children.  In addition, this page also contains a variety of resources which can be used to develop knowledge and confidence to support children and young people.  You will also find useful information in the
 

News and Events

 

section of the site through the link at the bottom of the page.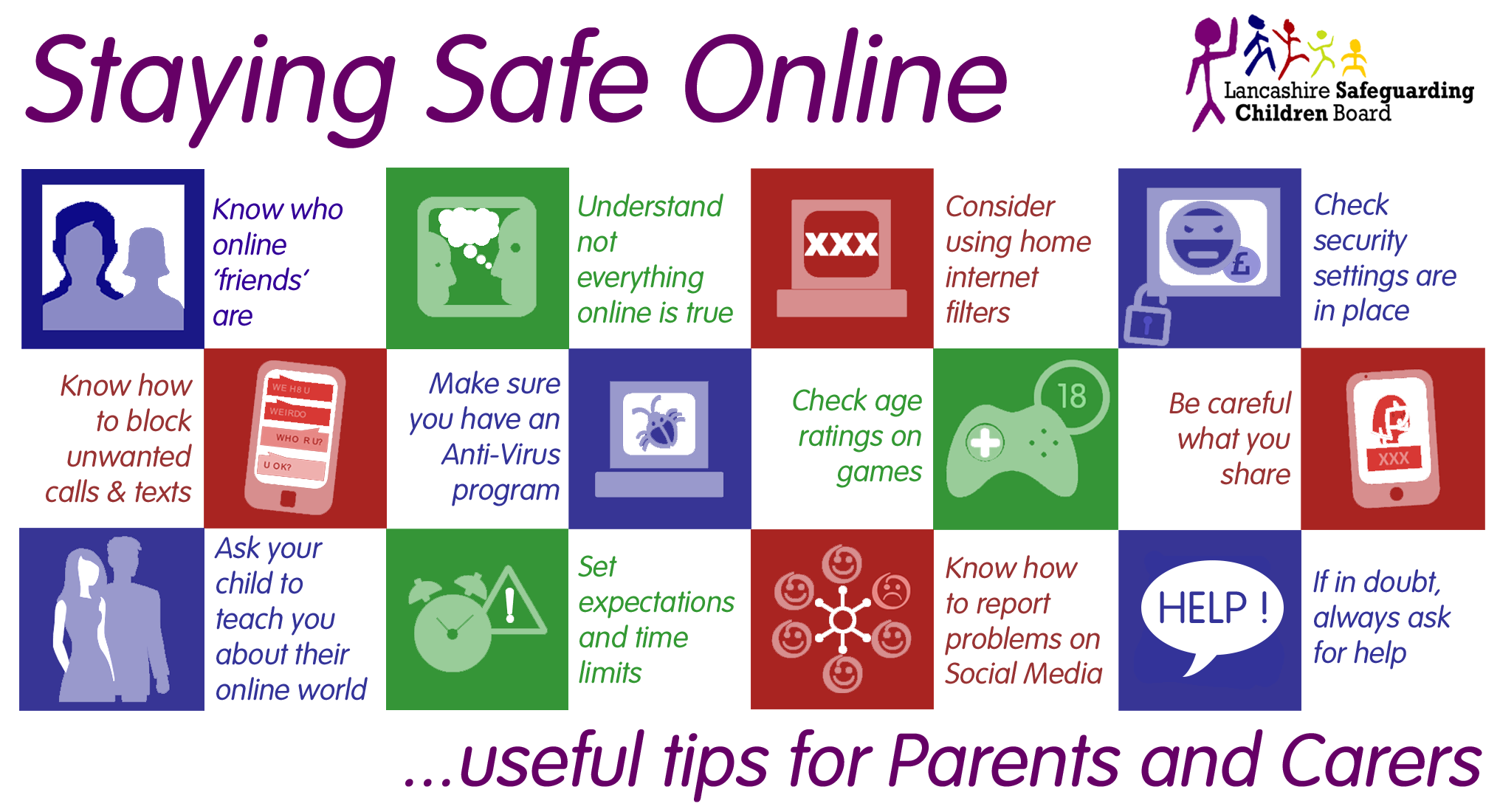 | | |
| --- | --- |
| Support for Parents & Carers |   |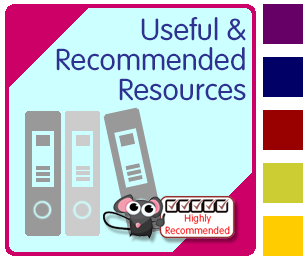 Resources
There are an enormous variety of Online Safety resources available and as Parents and Carers, it is often challenging to know where to start or where to find information on a specific topic.  The items below have therefore been highlighted as a selection of recommended resources specifically designed for Parents and Carers on different aspects.
Note: A common question from Parents & Carers is where to find information on setting up internet content filters at home.  As these will vary according to local circumstance, the Internet Matters resource below covers implementing settings for Sky, Virgin Media, BT and TalkTalk broadband connections as well as other areas such as mobile phone settings.
 
 
 

CSAP/LSAB Twitter:  Stay in touch through Twitter

Risk Area: Various

Whilst we may be more used to tackling the challenges posed through Social Media, our Twitter feed provides useful advice, news, information and resources on a variety of issues, both Online Safety and wider Safeguarding topics.

 

 
 
 

BBC News: Step-by-step guide to video calling family members

Risk Area: Health & Wellbeing

As our children and young people repeatedly emphasised during the MyAdvice project, we must not forget the positives aspects of technology.  In circumstances where it isn't possible to meet face-to-face, family can stay in touch through video chat platforms such as Skype, Facetime and WhatsApp.  This really useful step-by-step guidance from BBC Tech walks through how to set up and stay in touch with family members on different platforms and devices.

 

 
 
 

Childnet: Online Safety activities to do at home

Risk Area: Various

Our colleagues at Childnet have published a great collection of resources to explores online safety at home with children and young people ranging from 3 - 18.  Activities include film clips, advice and quizzes plus support around managing screen time.

 

 
 
 

BBC Teach - 5 Ways to keep children learning at home

Risk Area: Health & Wellbeing

With children at home for extended periods, continuing their learning can be a challenge for parents and carers.  BBC Teach has some useful tips to help keep them learning and engaged.

 

 
 
 

BBC OwnIT: 5 Tips to Own Your Phone

Risk Area: Screentime

The BBC OwnIT team provides some useful advice in the form of 5 tips to help your child stay in control of their phone rather than the other way around.  The tips (useful for adults too) include rules, boundaries and encouraging positivity as well as links to the highly-regarded BBC OwnIT app.

 
 
 

Childnet: Creating a Family Agreement

Risk Area: Various

A point regularly discussed on parental sessions and courses, this is particularly useful to help manage expectations, screentime and encourage positive behaviour online.  This updated resource from our colleagues at Childnet can prove useful to discuss and set agreed boundaries for family members (don't forget, family agreements apply to adults too!).

 
 
 

CSAP Focus On...Staying Safe Online over the Festive Season (updated)

Risk Area: Various

As many children and young people may receive gifts such as Smartphones, Tablets and Gaming Consoles over the festive period, the latest Focus On... article looks at some considerations, supporting information and useful tips to consider to help our children stay safe online. 

A downloadable version of the Focus On... article is available here or by clicking the icon on the left. 

 
 
 

NCA-CEOP: When teens share nudes

Risk Area: Sexting

Useful advice for Parents & Carers from NCA-CEOP explaining the implications of teens sharing 'nudes' including what to do if you have a concern that your child may be involved, signs to look out for and where you can go for help.

 

 
 
 

Vodafone: #Goldilocks

Risk Area: Social Media

A useful resource for use with younger children, #Goldilocks is a modern twist on the classic fairy tale.  The online resource from Vodafone includes a free e-book and fun activity sheet which can help to educate younger children about the potential consequences of being unkind or oversharing images in a light-hearted way. 

 

 
 
 

Childline: Its My Childline

Risk Area: Various

Childline have developed a useful website aimed at under-12s which provides support and information on a variety of topics including staying safe, bullying, your body & feelings.  The site includes a number of fun activities and creative tools children can use.

 
 
 

NHS Moodzone: Coping with exam stress

Risk Area: Emotional Health & Wellbeing

In line with our focus on supporting emotional health and wellbeing, the NHS have a very useful online site called Moodzone.  Moodzone includes tips on coping with stress, anxiety and depression and includes a useful section focussing on coping with exam stress.

 

 
 
 

Internet Matters: Grandparents Guide

Risk Area: Various

It is estimated that around 3.5 million grandparents support families by providing childcare.  However, support around the online world can often be challenging so our colleagues at Internet Matters have produced five useful tips to support grandparents to help keep our children safe online.

 

 
 
 

Swiggle Child Friendly Search Engine

Risk Area: Safer Access

Our colleagues at the South West Grid for Learning have released an excellent search engine tool particularly suited for use by younger children.  The search tool is powered by Google Custom Search and enforces SafeSearch to minimise opportunities for inappropriate content.  For Parents/Carers of younger children, Swiggle can be a useful page to have as the default search engine on devices in the home.  Swiggle also includes a very useful 'screen cover' feature – should a child encounter something inappropriate, the tool allows them to cover the screen and seek help from an adult.

 
 
 

CEOP Viral Scares Online – What to do?

Risk Area: Social Media

Stories often circulate online about online scares or suicide challenges which are alleged to have encouraged children to engage in harmful activities. Whilst most have been found to be hoaxes, fake news or wildly exaggerated stories, seeing or hearing about this content can be distressing for parents and very upsetting for children.  The THINK U KNOW website has some useful guidance for parents and carers about what to do if you've heard about such a story or challenge.

 
 
 

Digital Parenting 2019

Risk Area: Various

The latest release (Issue 7) of the Vodafone Digital Parenting resource is now available.  The highly-recommended magazine resource is free to access online and includes articles on improving digital-life balance, tips for children starting to use social media, parental controls & filtering and better smartphone security.

 
 
 

NWROCU Cyber Scams Booklet

Risk Area: Scams & Frauds

A key theme children and young people repeatedly highlighted during the LSCB MyAdvice project was finding out more about online scams and frauds.  The North West Regional Organised Crime Unit (NWROCU) have released a useful guide (applicable to all ages) which highlights how criminals target individuals online and how to be better protected. 

 
 
 

Childnet - Answering Parents Commonly Asked Questions

Risk Area: Various

Questions raised during Parental Awareness sessions typically highlight that it is common for parents and carers to sometimes feel unconfident or lacking knowledge in order to have a conversation about the online world with their children.  Our colleagues at Childnet have produced some useful guidance to help answer frequently asked questions parents may have on topics including how to talk about spending too much time online, increasing your online knowledge, underage social network use and online game ratings.

 

 
 
 

Social Media - Reporting Harmful Content Online

Risk Area: Social Media

Provided by the UK Safer Internet Centre and operated by our colleagues at SWGfL, this new reporting facility allows users to find useful advice and guidance about making online reports as well as providing users with the ability to make a report for further investigation.  The portal requires users (aged 13 and over) to have already reported material to the Social Media platform involved before making a report and covers a variety of platforms.

The facility is currently in beta version and can be accessed via the link below.  It is a highly recommended resource for those who may have already attempted to have content removed but been unsuccessful when initially reporting with providers.

 
 
 

LSCB Focus On...What is PEGI?

Risk Area: Online Gaming

One area that can sometimes be overlooked when it comes to Online Safety is Online Gaming.  Designed to support Parents and Carers, the LSCB has developed a dedicated Focus On... article which looks at the ratings system used in the UK, explaining what PEGI is used for, what 'Content Descriptors' are and includes some useful examples of popular games often raised when delivering school and parental awareness sessions. 

Find out more about PEGI in the Focus On...

 

section or download the standalone resource here:

 

Focus On...What is PEGI?
 
 
 

Safer Online Behaviours over Summer

Risk Area: Various

As the Summer holiday period begins, many children and young people will often spend an increased amount of time online.  As referred to in the

 

Focus On...

 

section, this resource is designed to support Parents & Carers in managing various online challenges over the Summer break with useful information and tips. 

Download the standalone resource here: LSCB Safer Online Behaviours over Summer

 
 
 

CEOP ThinkUKnow - Band Runner (8-10 year olds)

Risk Area: Various

Featuring characters and safety messages from the highly-regarded Thinkuknow (TUK) Play Like Share films, Band Runner is a fun game that puts children's knowledge about online safety to the test by asking them to help characters make safe choices. The game provides clear and practical safety advice for 8-10 year olds under the Play, Like, Share, Chat, Lock and Explore headings.

Access Band Runner on the TUK site at: www.thinkuknow.co.uk/parents/articles/band-runner

 

 
 
 

BBC 'Own It' Website

Risk Area: Various

The highly-regarded BBC 'Own It' website was launched in February 2018 and contains a variety of entertaining, useful, fun and empowering tips, insights, stories and advice aimed at supporting 9-12 year olds in getting the most out of their time online.  Own It brings a child's perspective of online life and the issues it throws up, covering a variety of areas from online privacy and avoiding malware, through to dealing with everyday dilemmas children face online.

Access the BBC 'Own It' site at: https://www.bbc.com/ownit

 

 
 
 

Childnet – A Parent's guide to Fortnite: Battle Royale

Risk Area: Online Gaming

Fortnite - Battle Royale is a hugely popular game with Children and Young People of all ages and revolves around a PVP (Player Versus Player) survival combat theme which is free to download (although in-game purchases are available). Our colleagues at Childnet have produced a very useful guide for parents explaining its features including a game overview, age requirements and tips/advice for discussion with your ch

ild.

Access the guide to Fortnite: Battle Royale at: http://www.childnet.com/blog/a-parents-guide-to-fortnite-battle-royale

 
 
 

Childnet – What is a Snapchat streak?

Risk Area: Social Media

Snapchat 'streaks' are a common question asked at Parental Awareness sessions in school and involve young people building up an unbroken series of consecutive snaps with another person which can be a significant source of anxiety and pressure to continue.  Our colleagues at Childnet have put together a really useful explanation about Snapchat streaks, what is involved and some useful tips for parents and carers.

You can view the explanation and supporting tips at: www.childnet.com/blog/what-is-a-snapchat-streak

 
 
 

The Royal Foundation - Bullying Taskforce Project

Risk Area: Online Bullying

As referred to in the

 

News & Events

 

section, The Duke of Cambridge has launched The Royal Foundation's Taskforce on the Prevention of Cyberbullying.  The Taskforce has created an Action Plan designed to kick-start a new approach to support young people when they use Social Media and Gaming Platforms. 

To find out more about the project including the Action Plan and a short, animated video clip, use the link below.

www.royalfoundation.com/duke-cambridge-launches-national-action-plan-tackle-cyberbullying

 

 
 
 

Childline Portal - Removing an online image or video

Risk Area: Online Content

Childline is working with the Internet Watch Foundation (IWF) to help young people who want to remove sexually explicit images of themselves from the internet. The Childline portal can be used by Young People to anonymously verify their identity using the Yoti app and submit their application to the IWF to have the image removed wherever it appears on the internet.

Further information and a link to the reporting facility is available via the News & Events section.

 

 
 
 

Internet Matters – Creating a great environment to talk

Risk Area: Various

A regular query asked during School Parental Awareness Sessions surrounds having 'the online safety conversation'.  Our colleagues at Internet Matters have produced a really useful guide to help parents and carers with tips to support the conversation and a tablet-based app with quiz questions.

Access the guide at:

www.internetmatters.org/wp-content/uploads/2017/08/Conversation-starter-guide-1.pdf

 
 
 

Barclays Digital Safety Guides

Risk Area: Various

Of use to both adults and young people, Barclays Bank have produced a series of very useful clips as part of their national Digital Safety campaign.  The clips include a variety of themes such as Identity Theft, SMS and Mobile scams, Phishing and Vishing fraud and Information Privacy tips amongst others.  They are airing on national television but you can also access the clips via the dedicated Barclays Digital Safety YouTube Channel at:

www.youtube.com/playlist?list=PLecqH2uhOR0ZK5WFrGy30v86MzmvDvC9p

 
 
 

ZIPIT (updated) from Childline - Get flirty chat back on the right track

Risk Area: Sexting

Zipit is a freely-available smartphone app from Childline to support young people being pressured to send naked or inappropriate images (often referred to as 'Sexting' or 'Nudes').  It has recently been updated and contains a gallery of pre-loaded images with witty responses and top tips to help stay in control of chat.  Find out more about Zipit via the link in the

 

Teachers & Professionals

 

section of the website.

 

 
 
 

Digital Parenting - Issue 6 now available

Risk Area: Various

Digital Parenting is an immensely useful, highly recommended annual resource from Vodafone which contains practical advice and guidance on a range of Online Safety-related topics.  The latest edition is now available and can be accessed via the link in the

 

Teachers & Professionals

 

section of the website.
 
 
 

CBBC article - Social Media Rules

Risk Area: Social Media

As highlighted in the

 

News & Events

 

section, a useful and interesting CBBC Newsround article has been published with a number of clips about what individuals sign up to when creating Social Media accounts.  The article and clips highlight the Terms and Conditions of Service that many do not read when signing up to popular Social Media platforms such as Facebook, Instagram and Snapchat and follows on from the themes highlighted in the Digital Citizenship resources recently published by the Children's Commissioner. 
 
 
 

CBeebies – Do I share too much of my child's life online?

Risk Area: Information Privacy

An interesting article from CBeebies Grown-Ups focussing on how families often share information online about their children (aka 'Sharenting').  The piece gives a useful insight into the practice, some of the things to consider and offers some useful tips about sharing photos and information about our children safely.

 
 
 

Digging into Minecraft

Risk Area: Online Gaming

Despite having been around for a number of years, a regular topic of questions from Parents and Carers continues to be around the immensely popular game Minecraft.

  

As referred to in the Focus On... section, this resource has been developed to help inform Parents & Carers about what Minecraft is, why it remains so popular and what things we can do that will help our children to stay safe whilst having fun.

You can find the article in the Focus On... section of the site or download the standalone resource here: Focus On...Digging into Minecraft

 

 
 
 

The Children's Commissioner – Digital 5 A Day Campaign

Risk Area: Mental Well-Being

The Children's Commissioner for England has launched a campaign based around the NHS's 5-steps to mental well-being.  The campaign is aimed at Parents & Carers to encourage their children to enjoy the online world with a balanced 'digital diet'.  The campaign includes practical steps with 5 elements including Connect, Be Active, Get Creative, Give to Others and Be Mindful.

Find out more about the Digital 5 A Day campaign at: https://www.childrenscommissioner.gov.uk/2017/08/06/digital-5-a-day

 
 
 

UK Safer Internet Centre – 5 things teenagers want parents to know

Risk Area: Various

In the consultation for HM Govt's upcoming Internet Safety Strategy, the UK Safer Internet Centre have published a number of responses from a youth perspective around things teenagers would like parents to understand.

Read more on the Safer Internet Centre website at: https://www.saferinternet.org.uk/blog/5-things-teens-want-parents-know

 
 
 

Google Interland – Be Internet Awesome

Risk Area: Various

Google has developed an engaging and interactive tool to help children safely explore the online world.  The web-based resource is aimed at 8-11 year olds and is an interactive, online game set across four lands, each with a different online safety theme.  

The resource is a useful and engaging tool for use with children both at home and in the classroom.  To view a YouTube clip of the resource, see:

 

https://www.youtube.com/watch?v=KJj2U7XuHdo

You can find out more about Google's Interland via the Teachers & Professionals section of the website.

 
 
 

NSPCC / O2 – Playing Minecraft Safely

Risk Area: Online Gaming

Colleagues at the NSPCC and O2 have produced a useful tips sheet to support Parents & Carers when talking to their children about the world of Minecraft.  The guidance explains single and multiplayer options along with tips about using online nicknames and the different player modes and what is involved in each one.

Access the NSPCC / O2 guidance at: www.nspcc.org.uk/globalassets/documents/online-safety/minecraft-pdf.pdf

 
 
 

Internet Matters – 10 tips for dealing with Bullying

Risk Area: Online Bullying

The team at internetmatters.org have produced some excellent guidance for Parents & Carers to help if their child is being bullied online.  The guidance is in the form of a series of 10 useful tips with additional advice. 

Access the Dealing with Bullying resource at: www.internetmatters.org/issues/cyberbullying/deal-with-it

 
 
 

NSPCC / O2 - Be Share Aware Video Clip

Risk Area: Information Privacy & Social Media

As part of the Share Aware update highlighted above, a useful supporting 30-second video (Be Share Aware) can be found at:

 

https://www.youtube.com/watch?v=lGIEKGJRWEo

In addition, the NSPCC's dedicated YouTube channel contains a variety of useful video clips and can be accessed at:

 

www.youtube.com/user/nspcc

 
 
 

YouTube Kids App

Risk Area: Inappropriate Content

YouTube have released an official App designed for children which can be useful in helping families to manage content children see.  The app is available via the link below which includes a YouTube Kids Parental Guide with useful tips and advice to help make YouTube safer.  The YouTube Kids app is freely available and can be downloaded from both the Google Play and Apple App Stores.

 
 
 

Childline: Bounce Back from Bullying

Risk Area: Bullying

'Bounce Back from Bullying' is a useful online resource from Childline aimed at supporting children and young people with bullying issues, helping them to take back control.  The resource comprises of 6 questions, each with 3 options which when selected, provide the child with supporting comments and practical suggestions and activities. 

'Bounce Back from Bullying' can be found on the Childline website at:

https://bounce-back-from-bullying.childline.org.uk/

 

 
 
 

Tech Gadgets and Gifts @ Christmas

Risk Area: Various

As children may be receiving tech gadgets and gifts over the festive season, our colleagues at the UK Safer Internet Centre have produced some useful and timely advice for Parents and Carers. The advice includes some top online safety tips to consider including safety features available on smartphones, tablets and games consoles plus advice around parental controls on the home internet connection and internet-connected toys.  They also have a useful 'Parent's Guide to Technology' resource highlighting useful considerations on a variety of devices including Smart TVs.  The Christmas advice can be found at:

http://www.saferinternet.org.uk/blog/tech-gifts-christmas

 

 
 
 

CSM - 5 Tips for dealing with Online Bullying

Risk Area: Bullying

In support of Anti-Bullying Week 2016, this clip from Common Sense Media (CSM) highlights 5 useful tips for Parents & Carers to support dealing with Online Bullying. The guidance, in the form of a 90-second YouTube video, can be found at:

 
 
 

O2 / NSPCC - NetAware

Risk Area: Social Media

A really useful resource guide to help adults stay up to date with the social networks children use.  The resource highlights various popular social media apps and provides an explanation of what it is, age ratings, why it is popular and points to be aware of.  NetAware can be found at:

 
 
 

CEOP Think U Know Parents Site

Risk Area: Various

CEOP through their Think U Know (TUK) programme have some excellent advice and guidance for Parents and Carers on a variety of online issues.  The Parents section on the TUK website includes practical advice with a variety of media clips and articles and can be found at:

 
 
 

Click CEOP: Report Button

Risk Area: Online Grooming

The Child Exploitation & Online Protection Centre (CEOP) provide a dedicated report button to use if someone has done something online that has made you or a child or young person you know, feel worried or unsafe.  The CEOP Safety Centre provides useful guidance on making a report, including when to report and what happens next.

 
 
 

LSCB Pokémon GO: Top Tips for Parents and Carers

Risk Area: Gaming

In addition to the Pokémon GO article in the Focus On... section, this locally-developed resource provides Parents and Carers with a series of useful safety tips and points around the hugely popular Pokémon GO mobile game.

Download the resource here: LSCB Pokémon GO Bulletin

 
 
 
 

O2 & NSPCC Online Safety Helpline

Risk Area: Various

O2 in partnership with the NSPCC have set up a dedicated Helpline to support Parents & Carers with a variety of concerns or questions.  The Helpline is available seven days a week and is free to call and can support with technical queries or more personal questions about staying safe online.  Find out more about the Helpline via the link below or call on 0808 800 5002

 
 
 

Vodafone Digital Parenting 

Risk Area: Various

The Parent Zone in association with Vodafone have released the latest version of the highly recommended Digital Parenting magazine.  The resource is free to access online and contains useful and practical information on a variety of subjects.  You can access the latest edition at: 

http://parentzone.org.uk/projects/digital-parenting-magazine

 
 
 
 

Childnet International: Parents & Carers

Risk Area: Various

Childnet provide a large range of advice and resources to support Parents and Carers to keep children safe online.  Their Parents section contains some very useful tips about talking to children about online issues and includes 'Hot Topic' guides across a wide range of issues.

 
 
 

NSPCC - Share Aware

Risk Area: Social Media

The NSPCC have teamed up with O2 to provide 'Share Aware' - a set of resources to support Parents and Carers with advice and guides about the variety of Social Networks our children use.   Access to Share Aware can be found through the link below:

https://www.nspcc.org.uk/preventing-abuse/keeping-children-safe/share-aware/

 
 
 
 

CEOP TUK - Concerned about your child: Abuse & Exploitation

Risk Area: Various

CEOP's TUK programme have produced a series of useful guides for Parents and Carers.  Abuse and Exploitation focusses on Sexual abuse, Grooming and Nude images.  Access the Abuse & Exploitation guidance through the link below:

https://www.thinkuknow.co.uk/parents/Concerned-about-your-child/worried-your-child-is-being-sexually-abused/

 
 
 
 

CEOP TUK - Concerned about your child: Sex & Relationships

Risk Area: Various

CEOP's TUK programme have produced a series of useful guides for Parents and Carers.  Sex and Relationships focusses on Online Relationships, Unhealthy Relationships and Harmful & Risky Behaviour.  Access the Sex & Relationships guidance through the link below:

https://www.thinkuknow.co.uk/parents/Concerned-about-your-child/worried-about-your-child-the-internet-and-sex/

 
 
 
 

CEOP TUK - Concerned about your child: Online Behaviour

Risk Area: Various

CEOP's TUK programme have produced a series of useful guides for Parents and Carers.  Online Behaviour focusses on Exposure to Sexual Content, Online Activity and Sharing Information Online.  Access the Online Behaviour guidance through the link below:

https://www.thinkuknow.co.uk/parents/Concerned-about-your-child/Online-contact-and-staying-safe/ 

 
 
 

Internet Matters.org

Risk Area: Various

A not-for-profit organisation supported by Sky, BT, TalkTalk and Virgin Media, internetmatters.org provides some very useful advice and practical guidance including parent's guides to technology and apps as well as guides for setting up controls on home broadband connections.

 
 
 

CBBC Stay Safe

Risk Area: Various

The CBBC Stay Safe website contains lots of useful tips and entertaining clips for addressing a variety of online safety issues with children including Bullying, Social Media, Age limits and Gaming.

 
 
 

CEOP TUK: Reporting to Social Media sites

Risk Area: Social Media

Useful advice for Parents and Carers about reporting problems to Social Media sites.  It highlights guidance for contacting sites, including useful guides from a number of popular Social Media providers on their rules and how to report issues.

https://www.thinkuknow.co.uk/parents/articles/Reporting-to-social-media-sites-/

 
 
 
 
 
You may also be interested in: